The casino's in Biloxi are the anchor that will financially stabilize their future baseball stadium.
There is no anchor currently present in Pensacola connected to the Maritime Park. There is a local man, Mark taylor, that it trying his darn-est to get ahold of the Kitty Hawk Aircraft Carrier & place in at the Pensacola Port. He estimates the carrier could bring in upwards to 20 Million dollars locally per year.
This is the kind of anchor the Maritime Park needs. I could see the Park being debt free from piggy backing off of a aircraft carrier nearby.
Goes Q Studer support the carrier coming here? Yes.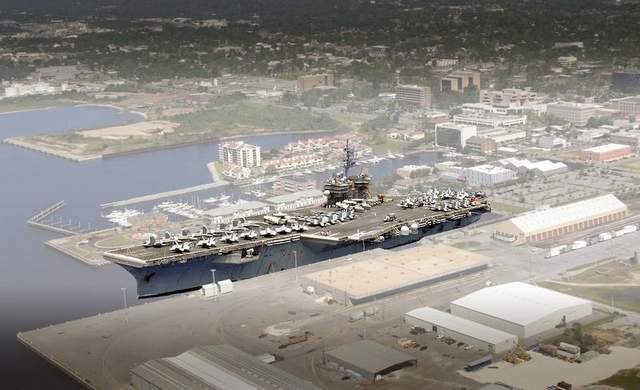 http://www.fox10tv.com/dpp/news/local_news/pensacola/group-wants-floating-museum-in-bay
Group wants 'floating museum' in Pensacola Bay
Updated: Friday, 01 Feb 2013, 8:24 AM CST
Published : Thursday, 31 Jan 2013, 10:13 PM CST
Cory Pippin
PENSACOLA, Fla. (WALA) - A local volunteer group has been working to bring a major Navy aircraft carrier to Pensacola Bay.
Mark Taylor has called Pensacola his home and the home to his small business for years.
He believes a Naval aircraft carrier would be a big time draw to Pensacola Bay.
"It was just a dream from a couple of weeks of what we could do to bring people into downtown Pensacola. Since we're in the cradle of Naval Aviation, I figured an aircraft carrier would be a perfect fit," said Taylor.
The carrier, the USS Kitty Hawk, is 1,046 feet-long and was commissioned in 1961. The USS Kitty Hawk served in missions for more than 45 years.
Taylor said what began as making phone calls to military officials turned into raising funds to tow in the ship, which would serve as a museum.
"It would potentially be the biggest shot in the arm Pensacola has ever seen. We're talking $20 million into the area every year. We're 10 minutes from the interstate with 70,000 plus cars coming through every day. This would give them a reason to stop," Taylor said.
Taylor said the plan would hopefully be to end up placing the ship in the bay outside the Community Maritime Park. He said it would be one of the largest attractions of its kind in the world.
Taylor's group originally wanted to bring in the USS Forrestal but its poor condition wouldn't permit it.
Much like the USS Alabama in Mobile, he hopes the Kitty Hawk could be a calling card for the area.
"We would want to partner with them and sell a two day pass where they can see the Battleship one day and the carrier the other day. We would want to get the Navy base into that same trio. We would triple our affect across the country on what we can tell about this area on the gulf coast," said Taylor.
Taylor says preparations would cost upward of $30 million. If successful, the carrier's expected to arrive around 2016.
If you're interested in donating for the USS Kitty Hawk, click here .